Regular price
$45.00 USD
Sale price
$40.00 USD
Unit price
per
Sale
Sold out
INSPIRATION
The two Foo Lions hold a fresh cut blossom in their months and rest their feet on one as well. After being introduced into China through the Silk Road, the lion became a popular symbol and it is believed to have special powers that could repel negative energy and provide protection. This Gilded silver bowl with design of double lions features the exquisite fusion of western and oriental cultures.
DESCRIPTION
The three-dimensional gold lions sit on an aqua-blue lotus that represents power and wealth, combined the unique opalescent case, this is a reproduction to Tang Palace's gilt ornaments.
Echoing the jewel box design, the shades are embossed with the same print to add more pleasure to the routine.
Packed with exclusive toners to deliver intense color payoff; the powder is smooth, blendable and adheres easily to the lids.
Use it as eyeshadow, highlighter, blush and contour palette to customize your look. 
Inspired by the signature trio-colored glazed pottery of the Tang Dynasty, these pigmented and saturated shades are telling you it's time to have some fun and play with bright eyeshadow that makes your eyes really pop. Setting in the circle, it is a highlighting shade with blue duo-chrome shift. The antique gold perfectly replicates the grand Tang palace.
Featuring warm orange shades in a mix of finishes, create looks fit for any season. The coral orange in the middle is a perfect blush shade, surrounded by an icy lavender with silver sheen for highlighting.
This palette offers a spectrum of rosy tints and earthy shades across different textures. Setting in the middle, the rose pink containing subtle silver pinpoints is an eyeshadow/blush shade that flatters all skin tones. The ring-shaped hybrid shimmer lights up the look with its multichrome pinpoints.
These neutral shades are the most wearable. The nude brown matte is coupled with buttery metallics as well as a futuristic silver shimmer. The taupe shade in the middle can be used for contouring, and the ring-shaped champagne is perfect for highlighting.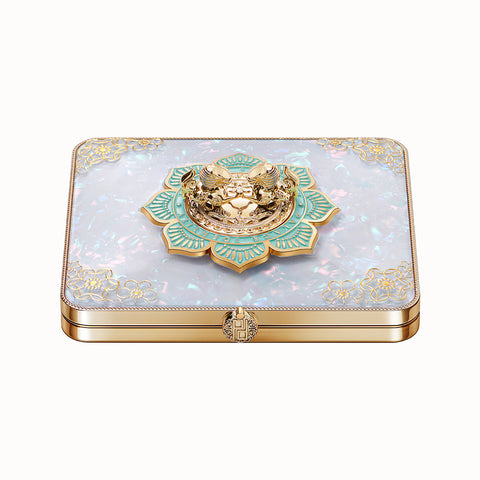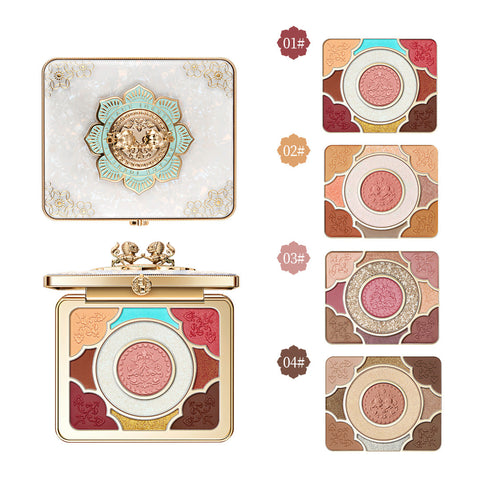 HOW-TO-USE
On the eyes: After using the base color to keep the eye skin dry, build it up with different shades.

On the cheek: After setting the makeup, use the makeup brushes to layer different shades and finishes for a multidimensional look.
Share
View full details